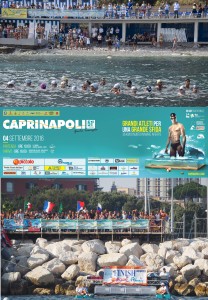 September 21, 2016: With the end of the photo exhibition dedicated to Giulio Travaglio, at the Renaissance Hotel Mediterraneo, valuable partners in 2016, it officially closes the 51st edition of the Capri-Napoli.
Surely another fantastic edition that began with the children in April, continued with wonderful moments that have celebrated an edition born in the name of our friend Giulio Travaglio and ended with the official race, which, as always, gave unforgettable emotions.
Thanks to all the athletes for their excellent performance …
Thanks to all the sponsors and partners who have supported the edition …
Thanks to all the national federations involved …
Thanks to all the old fans and newcomers …
Goodbye to 2017 with the 52 th edition.
Countdown
3rd September 2017
Capri-Napoli 52nd edition
64 years: 1954-2017
Capri-Napoli 2016 live streaming
Capri-Napoli 2015 abstract
Social Network
MAIN SPONSOR
SPONSOR
51st edition: new spot
51st edition: Travaglio memories
51st edition: press conference
50th edition: official spot
Contats
Eventualmente
Eventi & Comunicazione
Via Montenuovo Licola Patria, 130
80078 Pozzuoli – Napoli - Italy
Web: www.eventualmente.net
E-mail: info@caprinapoli.com
E-mail: info@eventualmente.net
facebook: capri-napoli marathon
twitter: @caprinapoli54
Visite
Admin