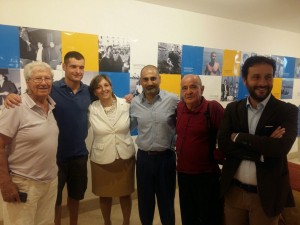 September 5, 2016: This morning was held the award ceremony of the 51 th edition of the Capri-Napoli made in the splendid Renaissance Hotel Mediterraneo Naples.
Here are all the winners:
Men, winner, Evgenij Pop Acev (MKD);
Women, winner, Pilar Geijo (ITA);
Trophy "Giulio Travaglio", best Italian, Gabriele Mento (ITA);
Trophy "CAG Chemical", the best technical swimmer, Edoardo Stichino (ITA);
Trophy "Filippo Calvino" best under 25 Marcel Schouten (NED).
And with the final victory of the FINA Grand Prix in 2016 by Tomi Stefanovski (MKD) and  Edoardo Stochino (ITA) and Kozydub Olga (RUS).
A fantastic edition in memory of Giulio Travaglio, which ends with the photo exhibition: "Travaglio, King of the Capri-Napoli" whose vernissage there was, again today, at the Renaissance Hotel Mediterraneo Naples, where there are exposed 18 photos that tell the exploits of the Neapolitan champion and which will remain open until September 20.
Here the final ranking of FINA Grand Prix 2016.
Countdown
3rd September 2017
Capri-Napoli 52nd edition
64 years: 1954-2017
Capri-Napoli 2016 live streaming
Capri-Napoli 2015 abstract
Social Network
MAIN SPONSOR
SPONSOR
51st edition: new spot
51st edition: Travaglio memories
51st edition: press conference
50th edition: official spot
Contats
Eventualmente
Eventi & Comunicazione
Via Montenuovo Licola Patria, 130
80078 Pozzuoli – Napoli - Italy
Web: www.eventualmente.net
E-mail: info@caprinapoli.com
E-mail: info@eventualmente.net
facebook: capri-napoli marathon
twitter: @caprinapoli54
Visite
Admin