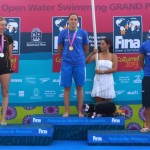 21 Apri 2013:  Yesterday at the 4th FINA Grand Prix the swimmer Simone Ruffini (ITA) won at the race over a distance of 15 km in Cozumel (MEX). Second place for the swimmer Rycheman (BEL). Third place for Simone Ercoli (ITA), now again first in the 2013 Grand Prix ranking.
For women, the podium: 1st Grimaldi (ITA), 2nd Maurer (GER), 3rd Bruni (ITA).
The next race will be on 27 July in Lac ST-jean (CAN) over a distance of 32km.
See here the new ranking.
Social Network
Countdown
1st September
Capri Napoli 48th Edition
60 years
MAIN SPONSOR
SPONSOR
Conferenza Stampa 2012
Spot Capri-Napoli
Aspettando la Capri-Napoli 2013
Contatti
Eventualmente – Eventi & Comunicazione
Via Montenuovo Licola Patria, 130
Via Luciano, 48
80078 Pozzuoli – Napoli - Italy
Web: www.caprinapoli.com
e-mail: info@caprinapoli.com
facebook: capri-napoli marathon
tel: +39.081.526.98.83
fax: +39.081.193.69.613
Visite
Admin