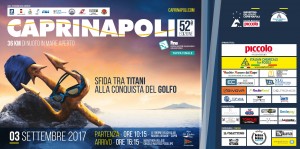 August 3, 2017: just one month left at the 52nd edition of Capri-Naples.
For this year too, the competition will be the final stage of the FINA Grand Prix. In Naples, therefore, as in the last editions, in addition to the race winners, we will also know the world champions of the Grand Prix 2017.
Today we also reveal the 2017 image that leverages the epic aspect of Capri-Naples, whit swimmers who are real gods of the sea who challenge the victory in the gulf.
In the coming days, all the initiatives planned in this edition will be revealed, but above all, the 30 athletes (17 men and 13 women) from 10 nations and 3 continents seeking to win the classic world marathon.
Countdown
3rd September 2017
Capri-Napoli 52nd edition
64 years: 1954-2017
Capri-Napoli 2016
Capri-Napoli 2015 abstract
Social Network
MAIN SPONSOR
SPONSOR
51st edition: new spot
51st edition: Travaglio memories
51st edition: press conference
50th edition: official spot
Contats
Eventualmente
Eventi & Comunicazione
Via Montenuovo Licola Patria, 130
80078 Pozzuoli – Napoli - Italy
Web: www.eventualmente.net
E-mail: info@caprinapoli.com
E-mail: info@eventualmente.net
facebook: @caprinapolimarathon
twitter: @caprinapoli54
Visite
Admin