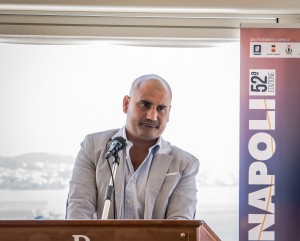 October 9th 2018: Historical day for Italian open water swimming. The International Marathon Swimming Hall of Fame has decided to induct the organizer of the Capri-Naples, Luciano Cotena, into its world gallery. The announcement came from the committee, which has also made official the other names of the bottom swimming figures that will be included in the Hall of Fame: among these there are two swimmers like the German Thomas Lurz and the Brazilian Ana Marcela Cuhna, the latter winner of the Capri-Naples in 2014 and 2017.
The real enrollment ceremony in the Hall of Fame will take place on 9th March in Australia, where all the personalities of swimming (in the pool and open water) will be invited to receive the recognition.
Satisfaction in the words of Luciano Cotena: "This is a very important recognition, which repays these years of sacrifice, started with the bet to bring the Capri-Naples to great levels and continue with a series of satisfactions related to my activity as an organizer. I thank the International Marathon Swimming who proposed me as a new member of the Hall of Fame and I am honored to see my name joined together with great swimming, among whom I like to remember my friend Giulio Travaglio and the unforgettable Lello Barbuto " .
Here the recognition
Countdown
7th September 2019
Capri-Napoli 54th edition
official competition
66 years: 1954-2019
Capri-Napoli 2018
Capri Napoli 2017
Capri-Napoli 2016
Social Network
MAIN SPONSOR
SPONSOR
53th edition: 2018 new spot
52th edition: official spot
51st edition: official spot
Contacts
Eventualmente
Eventi & Comunicazione
Via Montenuovo Licola Patria, 130
80078 Pozzuoli – Napoli - Italy
Web: www.eventualmente.net
E-mail: info@caprinapoli.com
E-mail: info@eventualmente.net
Visits
Admin