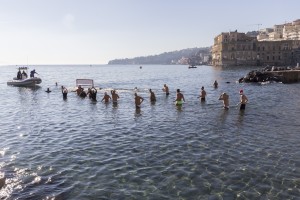 10 December 2018: also for 2018, the Capri-Napoli O.C. will realize the second edition of the Christmas Cup.
The event, born last year, will be valid as the Regional Open Water Winter Championship.
It will be realized on December 23 at the Posillipo Nautical Club on the distance of m. 250.
Last year there was great enthusiasm, for an atypical swim in the sea in December that was well received by many masters and elite swimmers.
Countdown
7th September 2019
Capri-Napoli 54th edition
official competition
66 years: 1954-2019
Capri-Napoli 2018
Capri Napoli 2017
Capri-Napoli 2016
Social Network
MAIN SPONSOR
SPONSOR
53th edition: 2018 new spot
52th edition: official spot
51st edition: official spot
Contacts
Eventualmente
Eventi & Comunicazione
Via Montenuovo Licola Patria, 130
80078 Pozzuoli – Napoli - Italy
Web: www.eventualmente.net
E-mail: info@caprinapoli.com
E-mail: info@eventualmente.net
Visits
Admin