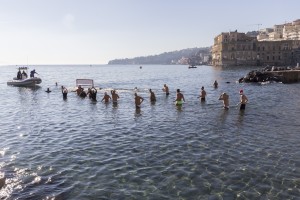 December 28th 2018: everything is ready for the second edition of the Christmas Cup, the winter event of the Capri-Napoli scheduled for Sunday, December 30 at CN Posillipo starting at 11.30.
A fun-sporting moment for the promotion and enhancement of the Gulf of Naples and its sea even in winter.
About 100 participants will compete over the distance of 250 meters to decree regional winter champions.
Also, a moment to remember Anna Mazzola, who died during the Christmas holidays. First Italian winner of the Capri-Naples (1957).
Countdown
7th September 2019
Capri-Napoli 54th edition
official competition
66 years: 1954-2019
Capri-Napoli 2018
Capri Napoli 2017
Capri-Napoli 2016
Social Network
MAIN SPONSOR
SPONSOR
53th edition: 2018 new spot
52th edition: official spot
51st edition: official spot
Contacts
Eventualmente
Eventi & Comunicazione
Via Montenuovo Licola Patria, 130
80078 Pozzuoli – Napoli - Italy
Web: www.eventualmente.net
E-mail: info@caprinapoli.com
E-mail: info@eventualmente.net
Visits
Admin