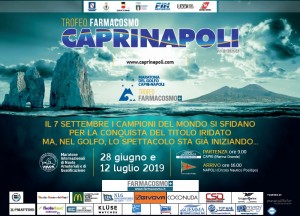 27 June 2019: all set for the first crossing of 2019 which will see at the start 54 athletes of 6 nations divided between SOLO, DUO and RELAYS.
Departure Friday 28 June which opens the 54th edition of the Capri-Naples and which will see the arrival at the Circolo Nautico Posillipo starting from 5.00 pm.
Second race scheduled for Friday 12 July and official race scheduled for Saturday 7 September.
Here the starting list.
Countdown
5th September 2020
Capri-Napoli 55th edition
official competition
67 years: 1954-2020
Capri-Napoli 2019
Capri-Napoli 2018
Capri Napoli 2017
MAIN SPONSOR
SPONSOR
Social Network
54th edition: 2019 new spot
52th edition: official spot
51st edition: official spot
Contacts
Eventualmente
Eventi & Comunicazione
Via Ripuaria 48
80014 G. in Campania – Napoli - Italy
Web: www.eventualmente.net
E-mail: info@caprinapoli.com
E-mail: info@eventualmente.net
Visits
Admin