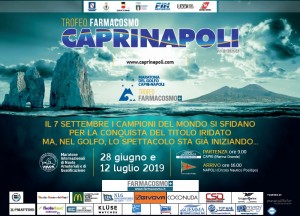 10 July 2019: only a few hours to the second crossing of 2019, scheduled for Friday 12 July, which will see at the start 57 athletes of 9 Nations, divided between SOLO and RELAYS that, together with the 54 who have already faced the competition in June, make get the number of athletes participating to 111.
Friday morning, at 9am, departure from the historic location of Le Ondine beach club in Marina Grande in Capri.
The arrival of the second non-competitive race of the Capri-Naples marathon will see the finish of the competitors  in front of the Posillipo Nautical Club which, as in June, provided a precious logistical support to the event.

Here the starting list.
Countdown
5th September 2020
Capri-Napoli 55th edition
official competition
67 years: 1954-2020
Capri-Napoli 2019
Capri-Napoli 2018
Capri Napoli 2017
MAIN SPONSOR
SPONSOR
Social Network
54th edition: 2019 new spot
52th edition: official spot
51st edition: official spot
Contacts
Eventualmente
Eventi & Comunicazione
Via Ripuaria 48
80014 G. in Campania – Napoli - Italy
Web: www.eventualmente.net
E-mail: info@caprinapoli.com
E-mail: info@eventualmente.net
Visits
Admin