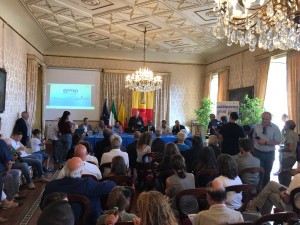 September 3, 2019: The 54th edition of the Capri-Naples was presented this morning, final stage of the FINA Ultramarathon Swim Series 2019.
The conference was held at the Municipality of Naples. At the speakers table, in addition to the President of the Organizing Committee Luciano Cotena, also the Councilor for sport of the Municipality of Naples Ciro Borriello, the President of the Campania FIN Paolo Trapanese, the President of CONI Campania Sergio Roncelli and the technical guide of the FFOO Napoli Luca Piscopo.
Representing the registered swimmers, one of the competing swimmers, the Neapolitan Marco Magliocca of the C.N. Posillipo, who arrives at his second participation, with the coach Rosario Castellano who has great experience at the crossing, having swum for 7 times.
Then, all the trophies were presented, starting with the main one, the Farmacosmo trophy, reserved for the winner and the winner of the 2019 edition. Again the best Italian athlete trophy that CONI wanted to call "Giulio Travaglio" and , again, the "Filippo Calvino" trophy for the best young man under 21 and the "Partenope" trophy for the best Neapolitan in the race.
The starting list of the 2019 protagonists was then unveiled, with many super bigs at the start. At the start 25 athletes (15 men and 10 women) from 9 countries.
Here the official brochure
Here the starting list
Countdown
6th September 2020
Capri-Napoli 55th edition
official competition
67 years: 1954-2020
Capri-Napoli 2019
Capri-Napoli 2018
Capri Napoli 2017
MAIN SPONSOR
SPONSOR
Social Network
54th edition: 2019 new spot
52th edition: official spot
51st edition: official spot
Contacts
Eventualmente
Eventi & Comunicazione
Via Montenuovo Licola Patria, 130
80078 Pozzuoli – Napoli - Italy
Web: www.eventualmente.net
E-mail: info@caprinapoli.com
E-mail: info@eventualmente.net
Visits
Admin