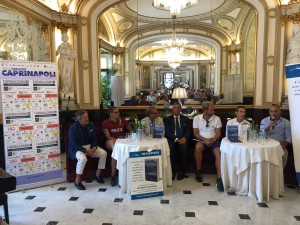 6 September 2019: Intense morning with the technical meeting, to illustrate to the athletes all the details of the route and the regulations.
To follow, the last official training sessions at the Circolo Canottieri Napoli.
Again, the official presentation at the Gran Caffè Gambrinus. The event was preceded by the presentation of the book by Maurizio Castagna: The Great Marathon Capri-Naples published by Magenes.
Relaxing afternoon.
Tomorrow the official race starts at 10.15 am from Le Ondine Beach Club of Marina Grande in Capri, with all the information, photos and live images from the race available on the official website and the official facebook and twitter channels.
Arrival of the competition visible from the Naples seafront in Via Nazario Sauro with the finish line placed at Molosiglio, in the waters in front of the Circolo Canottieri Napoli.
The highlights of the race will be visible on TeleCapriSport streaming on the facebook page: @TELECAPRISPORT
All the info, from the start, on the social pages of the event:
FACEBOOK: @caprinapolimarathon
TWITTER: caprinapoli54
INSTAGRAM: caprinapoli_official
Stay tuned …
Here the starting list
Countdown
6th September 2020
Capri-Napoli 55th edition
official competition
67 years: 1954-2020
Capri-Napoli 2019
Capri-Napoli 2018
Capri Napoli 2017
MAIN SPONSOR
SPONSOR
Social Network
54th edition: 2019 new spot
52th edition: official spot
51st edition: official spot
Contacts
Eventualmente
Eventi & Comunicazione
Via Ripuaria 48
80014 G. in Campania – Napoli - Italy
Web: www.eventualmente.net
E-mail: info@caprinapoli.com
E-mail: info@eventualmente.net
Visits
Admin