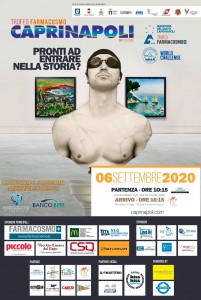 August 30, 2020: Tuesday, September 1st, at 12, the 55th edition of the Capri-Naples, World Challenge 2020 scheduled for Sunday, September 6th, will be presented to the Maschio Angioino castle in Naples.
At the conference the news and events of this exciting edition will be unveiled and the athletes who will try to win will be announced, after the last edition which saw the Italian double victory.
The conference will also present the official video spot of the 2020 edition, which can be previewed here.
Countdown
6th September 2020
Capri-Napoli 55th edition
official competition
67 years: 1954-2020
Capri-Napoli 2019
Capri-Napoli 2018
Capri Napoli 2017
MAIN SPONSOR
SPONSOR
Social Network
55th edition: 2020 new spot
52th edition: official spot
51st edition: official spot
Contacts
Eventualmente
Eventi & Comunicazione
Via Ripuaria 48
80014 G. in Campania – Napoli - Italy
Web: www.eventualmente.net
E-mail: info@caprinapoli.com
E-mail: info@eventualmente.net
Visits
Admin