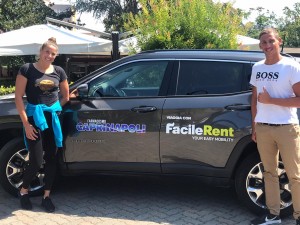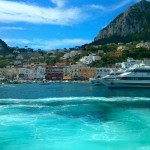 3 September 2020: swimmers enrolled in the 55th edition of the Capri-Naples  are arriving in Naples. The race, World Challenge 2020,  is scheduled for Sunday 6 September with departure from Le Ondine Beach Club in Capri at 10.30 am and arrival, starting from 4.45/5.00 pm, at Circolo Canottieri Naples, after swimming 36 km in the Gulf of Naples.
15 registered swimmers, 9 men and 6 women. Only 12 athletes at the start, after last-minute defections by Damian Blaum (ARG), Matheus Evangelista (BRA) and Sandra Frimerman-Begquist (USA).
The 2016 winner of the competition has already arrived, Evgenij Pop Acev (MKD), champion of the world FINA Ultramarathon circuit, while for women the champion Ana Marcela Cunha (BRA), already winner in Naples in 2017 (in the course below the coast) and in 2014 with the female record of the competition.
The Dutch Marcel Schouten returns to the competition, while the promising Frenchwoman Caroline Jouisse makes her debut.
Leading the group of Italians in the race the winner 2018 and second last year, Francesco Ghettini (Marima Militare⁸), the winner 2017 (in the course below the coast) and world silver in the 25 km, Matteo Furlan (Marina Militare) the former world champion of the Ultramarathon circuit, Edoardo Stochino (FFOO). Beside him the debut of Alessio Occhipinti (FFOO), the 2019 Italian champion on 25 km.
Among women, a top challenge between Barbara Pozzobon (FFOO), also FINA Ultramaraton world champion 2017 and 2018 and winner of the last two editions of the Capri-Naples. Arianna Bridi makes her debut in the race, gold at the 2017 Europeans and bronze at the 2018 World Championships in the 25 km and winner of the FINA 10 km circuit in 2017.
Tomorrow, a day in Capri with the presentation of the event to the Municipality of Capri that support the event, with training sessions at Marina Grande at the location of the official start: Le Ondine Beach Club.
Countdown
5th September 2021
Capri-Napoli 56th edition
official competition
68 years: 1954-2021
Capri-Napoli 2019
Capri-Napoli 2018
Capri Napoli 2017
MAIN SPONSOR
SPONSOR
Social Network
55th edition: 2020 new spot
52th edition: official spot
51st edition: official spot
Contacts
Eventualmente
Eventi & Comunicazione
Via Ripuaria 48
80014 G. in Campania – Napoli - Italy
Web: www.eventualmente.net
E-mail: info@caprinapoli.com
E-mail: info@eventualmente.net
Visits
Admin