Route Map
Route Map
The route that swimmers have to cover is 36km long. It is divided into two parts: the first one is free and it goes from "Marina Grande" in Capri island to "Napoli promenade", close to Castel dell'Ovo; here the swimmers will find a buoy; they have to turn on the left, leaving the buoy on their left.
From this point the route becomes obligatory; the swimmers have to cover the last kilometer swimming following the coast until the arrival area, located before the small beach of Rotonda Diaz.
The right course
The experience gained during several years in the Capri-Naples stretch first as a swimmer, then as an accompanist, has taught me that the routes are known subordinated to the sea conditions and, in particular, the psycho-physical characteristics of the athlete marathon runner. The four routes to choose from are essentially:
Marina Grande – Procida – Cape Misenum – Naples Following this course you count the arrival of the mistral in the early afternoon, hoping to swim with the tide in favor of the athlete when physical strength begin to decline. You try when the swimmer is not high-value competitive;
Marina Grande – point of intersection of Capri – Castellammare – San Giovanni – Naples This route allows you to swim with the tide in favor in the early hours of the race, but it requires a significant commitment after 8-9 miles when you have to cross to cross the Gulf . Preferred route with a swimmer slow start (race in progress);
Marina Grande – Castel dell 'Ovo It0s the route straight from Capri to Naples. The most insidious, because it can present unexpected obstacles, caused by the currents and / or winds. In flat sea, is the easier route and is still the shortest. You try with high-level competitive swimmers potentially capable of victory;
Marina Grande – Cape Posillipo – Via Caracciolo With this route you can take advantage of the current favorable am, but then puts a strain on the athlete in the second half of the race.
Finally, a few times, but luck plays its part and when you win every tactic becomes that good.
Giulio Travaglio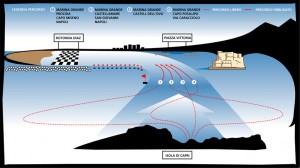 Social Network
Countdown
1st September
Capri Napoli 48th Edition
60 years
MAIN SPONSOR
SPONSOR
Conferenza Stampa 2012
Spot Capri-Napoli
Aspettando la Capri-Napoli 2013
Contatti
Eventualmente – Eventi & Comunicazione
Via Montenuovo Licola Patria, 130
Via Luciano, 48
80078 Pozzuoli – Napoli - Italy
Web: www.caprinapoli.com
e-mail: info@caprinapoli.com
facebook: capri-napoli marathon
tel: +39.081.526.98.83
fax: +39.081.193.69.613
Visite
Admin